Empowering Healthcare Technology In Your Hands
Our mission is to enable participants in the healthcare ecosystem to:
MPayz is a utility token that fuels the applications running on the MPayz Network. The MPayz token will be used to execute smart contracts, mint NFTs, and support cross-border payments.
The MPayz token will allow the following to occur through a MPayz wallet:
Accept payments in real time via the Web/App, mobile device, SMS, or IVR.
A web based, enrollment based, "virtual bank account" option that enables any healthcare provider/entity to accept and/or push payments of any size, at any time, from anywhere.
Bundled informational component associated with any and all transactions.
Multiple bill presentment, payment and reporting options.
Integration into dissimilar back-end resources.
Minting and purchasing of NFTs, which represent private patient data.
MPayz will be a system that facilitates better payment processing, better billing, better messaging, better public health systems, better data analytics, and better identity services needed within the medical industry. The MPayz Platform, a culmination of all the MPayz blockchain technologies, has been established to answer this call and will allow industry coordination to deliver better health outcomes through interoperability. This Algorand blockchain-based platform will include a policy system, a service marketplace, a secure global database external to the blockchain PKI, a shared computation environment, smart-contracts, private communication channels between peers, and a data marketplace.
In addition, the platform will track possession of tokens within the system as well changes in ownership of tokens. Within this ecosystem, tokens represent a mechanism for resource consumption control. The Foundation will derive revenue from token transaction fees representing the use of its platform assets. The MPayz Foundation is domiciled in Bermuda as a non-profit company equivalent.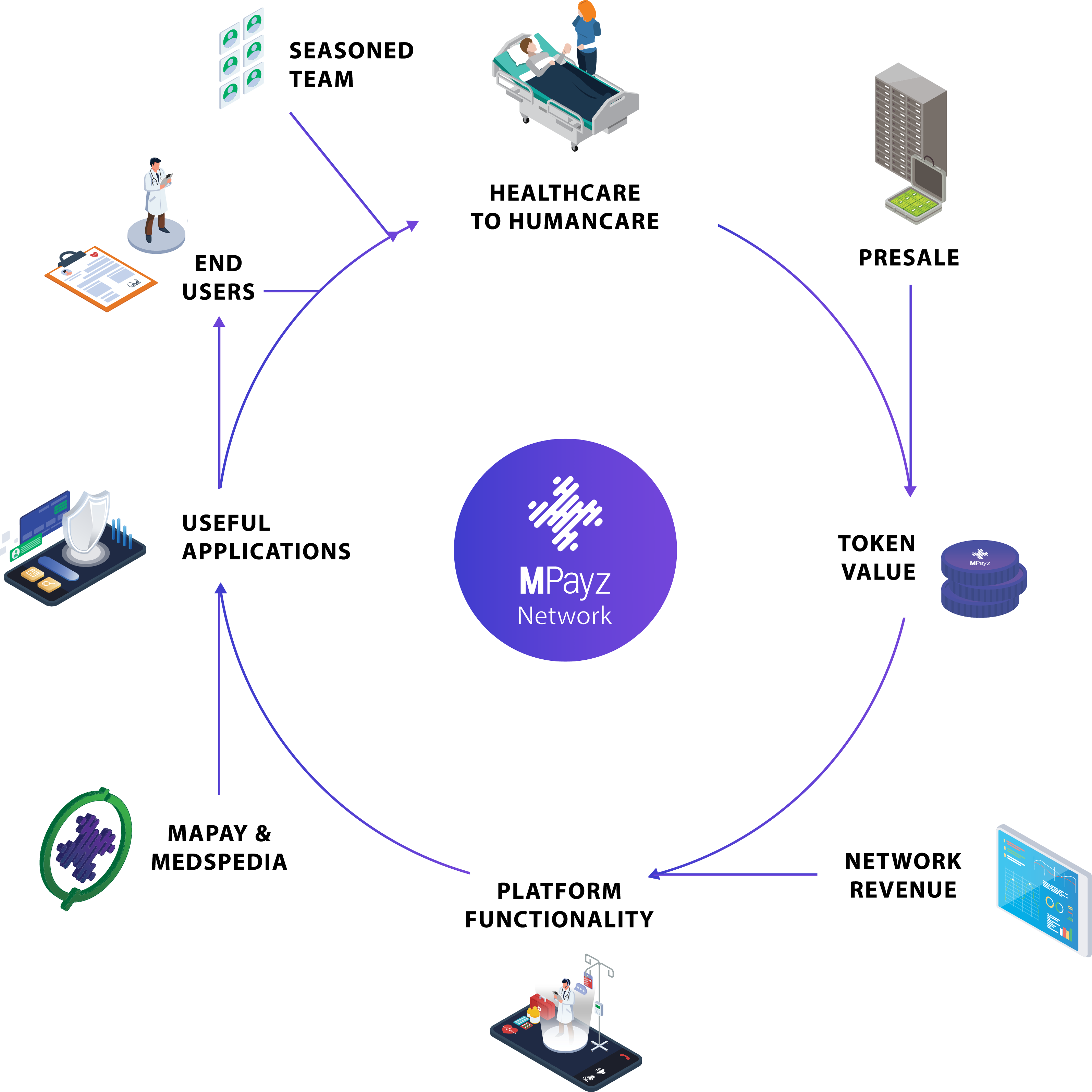 Algorand removes the technical barriers that for years undermined mainstream blockchain adoption: decentralization, scale, and security. Now you can build on a stable platform you trust.
Our consensus mechanism is permissionless and PURE PROOF OF STAKE™. It ensures full participation, protection, and speed within a truly decentralized network. With blocks finalized in seconds, Algorand's transaction throughput is on par with large payment and financial networks. And Algorand is the first blockchain to provide immediate transaction finality. No forking. No uncertainty.
We have constructed a token model for the operation, administration, and economic remuneration of participants in the system. The MPayz token provides for the secure and fair utilization of the healthcare interoperability system previously described. The MPayz tokens will be referred to as the UT (Utility Token) henceforth.
There will be an initial issuance of 5,000,000,000 UT. These tokens will be divided and have liquidity as follows:
Executives/Staff/Advisors
Payroll and Compensation Expenses for MPayz Foundation operators.
To cover the expenses of the Foundation.
Partners & Service Providers
Initial Adopters/Users of the MPayz Network building and providing technology to be deployed that accepts and promotes the MPayz token and assets.
Strategic Advisory Services and Oversight
Charitable donations to mission aligned endeavors and grants to fund healthcare disruptive technologies.
Decentralized Finance and Exchange Liquidity Pools
Reserves for future endeavors
Michael K. Dershem
MPayz Chairman of the Board
John Parker
MPayz General Counsel
Mahesh Chand
MPayz Innovation / Blockchain Advisor
Saleem Elmasri
MPayz Financial Advisor

Claudette McGowan
TD Bank, Global Executive Officer
Joel Naroff
Naroff Economics, President and Founder

Alison Swan
Swan Group, Director
Chris Were
Verida, Co-Founder and CEO
Darren Wolfberg
Blockchain Triangle, Co-Founder & CEO
Michael Ruddock
First Interstate Bank, Innovation Officer
Jill Richmond
GDA Capital, Strategic Advisor
Kevin Dorrance
TransformCare, Founder and CEO
David Walcott
Novamed, Founder & Managing Partner
Jenny Witthoff
Georgetown University Medical Center, Adjunct Faculty
Ricky Brathwaite
Bermuda Health Council, CEO
Bhasker Das
MCN Solutions, Chief Strategy Officer
Basil Hantash
Eluscent Therapeutics, Inc. Co-founder, CEO & Chairman